Namma Bengaluru Foundation along Citizen Action Forum (CAF) and several Resident Welfare Associations (RWAs) from different part of the city have joined hands to send the Government of Karnataka a strong message – Hosa Zoning Beda – with regard to the recent draft notification issued by the Urban Development Department on new zoning regulations.
According to the draft notification, residential areas with a road width of 9.0 metres (29.5 feet) can have vegetable and flower stalls, eateries such as fast food and takeaways, offices of professionals and power looms up to 2HP. Permissible land use in residential areas with a road width of 12.0 metres (39.5 feet) are: retail shops (up to 50 sqm each), mutton and poultry stalls and grocery stores. Now, no commercial activity of whatsoever nature is allowed in residential main and residential main and residential mixed zones if the road width is less than or equal to 40 feet.
Under the umbrella of United Bengaluru, citizens on July 28, 2017 submitted 337 objection letters, signed by 1000s of Bengalureans, to the Director, Town and Country Planning Department. (Read letter here)
In their objection, residents have demanded that Notification No. UDD 6 TTP 2017, Dated July 1, 2017 and Notification No. UDD 25 TTP 2016, Dated July 6, 2017 be set aside and a more rational and legal process be followed to change issues relating to Master Plan of Bengaluru.
The residents strongly believe that implementation of the new draft rules will choke their neighbourhoods, making their safety the biggest prey for reckless commercialization. United Bengaluru urges residents to join the #HosaZoningBeda revolution to ensure our neighbourhoods are not destroyed by commercialization and stop the Government of Government from placating the real estate and trade lobby.
#HosaZoningBeda Postcard campaign
Law-abiding residents of Bengaluru sent postcards to Chief Minister of Karnataka Shri Siddaramaiah, opposing the draft notification and urging all elected representatives to withdraw the controversial notification.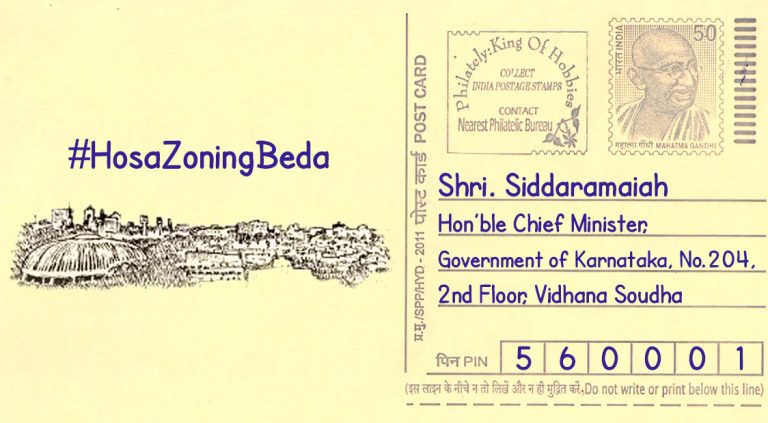 So far, over 7000 postcards have been sent to the Chief Minister. However, this won't be enough to drive our message. We urge every concerned resident of Bengaluru to send a post card to the Chief Minister enlisting why you believe the Government must scrap the new notification. Let us together send at least 1 lakh postcards to ensure nothing douses the #HosaZoningBeda chants.